Winner of four Tony awards, the critically acclaimed Jersey Boys is playing at Marina Bay Sands' Grand Theatre from November 15, 2012 to February 17, 2013. Jersey Boys is a musical about the true story of the rise of singer Frankie Valli (who's known for his falsetto voice and range) and the Four Seasons. The music is by Bob Gaudio, lyrics by Bob Crewe, and book by Marshall Brickman and Rick Elice. This Singapore version has a South African cast.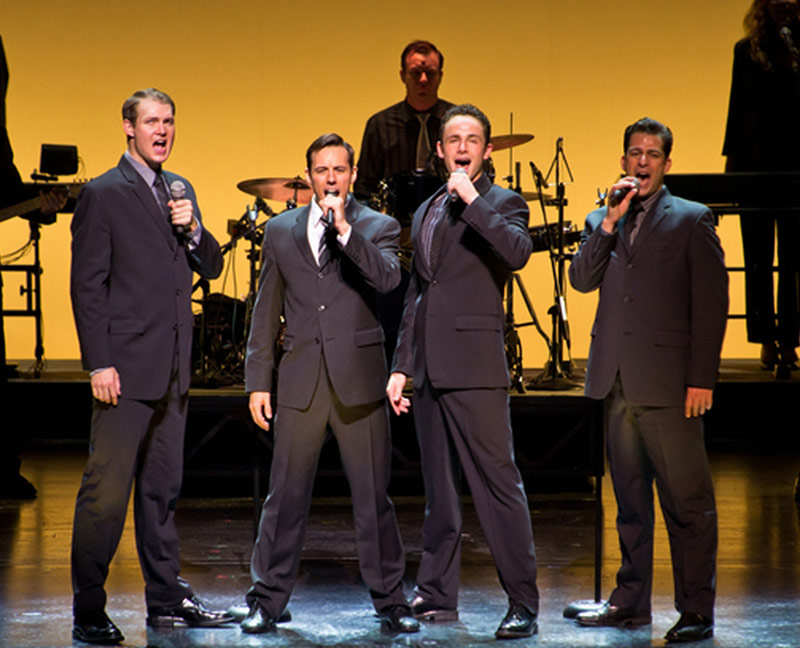 Under the wing of Tommy DeVito (Daniel Buys), Frankie Valli (Grant Almirall) is introduced to us as a naive New Jersey boy who gets his first taste of the stage as he sings for DeVito's group. DeVito is a mess, though, constantly finding himself in prison. In time, Valli and Devito are joined by Bob Gaudio (Kenneth Meyer) and Nick Massi (Emmanuel Castis) to make up the group The Four Seasons. Together, the group tastes failure, success, heartbreak, joy, and a life filled with thrills, spills, highs, and lows – all of which is effectively interwoven with songs from the '60s such as Walk Like a Man, Can't Take My Eyes Off of You, Big Girls Don't Cry, Sherry, and December 1963 (aka Oh, What a Night).
Oh, What a Night indeed! Jersey Boys ticks all the right boxes for what one expects from a phenomenal musical. Filled with catchy songs, strong performances (right down to the Jersey accent), humour, pathos, captivating story, and enticing sets, props, and direction, Jersey Boys is a superb musical not to be missed.
The sets move quickly, with props such as restaurant tables and makeshift cars appearing and disappearing quicker than your eyes can catch them moving. With creative lighting and sound effects, static props are made to reflect a multitude of environments – for example the grills upstage are imaged as prisons and later to showcase an abandoned building.
The direction is deft and very creative, as seen in one scene where the quartet find themselves on television for the first time and audiences are shown their "TV appearance" via a black and white backdrop projection…
For the full article and to read more, visit: http://blogcritics.org/theatre-review-singapore-jersey-boys/.