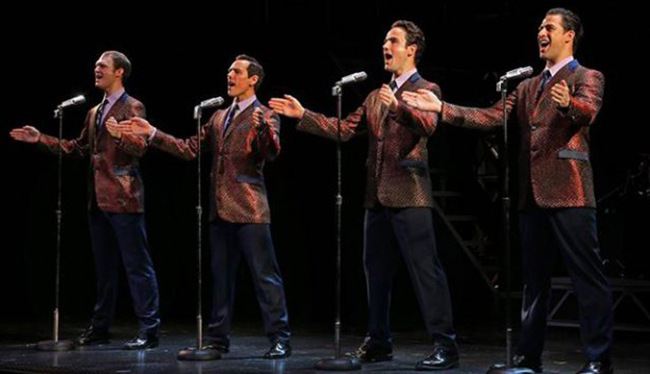 Popular demand leads to two week extension
Jersey Boys is rocking Cape Town! The show that got Singapore singing and became a household name in Jozi is currently playing to full houses and cheering audiences at Artscape. Critics are raving and the cast receives a standing ovation at every performance! The atmosphere is electric as the show enthralls the crowd with its breathtaking pace and extraordinary music. From the first curtain call two weeks ago, the popularity of the show continues to rise. Owing to overwhelming public demand Showtime Management, the South African producers of Jersey Boys, the sensational Broadway hit musical today announced a two-week extension of its Cape Town season. The show must close on Sunday, 4 August.
Brought to you by Investec in association with DSTV and Tsogo Sun, Jersey Boys has made musical theatre magic in South Africa and according to several industry personalities, raised the bar for this genre of live entertainment. "Jersey Boys sets a new standard for musicals," says 48 Hours while blogger Bianca Coleman calls Jersey Boys "a flawless piece of musical theatre". This sentiment is echoed by Biz Community who states on line, "this is easily one of the best productions we have ever seen". Leading entertainment publication, Argus Tonight sums up the show "slick and fast paced"and Whats on in Cape Town comments that "the energy of Jersey Boys starts high and gets only higher, with hit after masterful hit rolling off the stage".
"We are delighted by the welcome the show has received and the response from Cape Town audiences is quite remarkable," says Hazel Feldman, the show's SA Producer. "We therefore encourage people to secure their seats by booking soon or they may be disappointed."
Hurry, book now at Computicket or Artscape Dial-A-Seat 021 421 7695. You don't want to miss the international multi-award winning hit musical that's a Broadway triumph. It's an absolute "must-see" show with limited performances.
For further information visit www.jerseyboyssa.co.za or follow the incredible Jersey Boys journey on:
Twitter: https://twitter.com/JerseyBoysSA
Facebook https://www.facebook.com/Jersey-Boys-SA-Publicity-488103974551192/