Guests who came out to drive the fantastic Reynard race cars included Isidingo and Dancing With The Stars winner, Emmanuel Castis, 94.7 Highveld Stereo's Darren "Wackhead" Simpson, Top Billing's Nico Panagio, Crazy Monkey's Brendan Jack, SABC's Jason Greer, Jena Dover from e-tv's Scandal, comedian Bevan Cullinan and South Africa's sexiest Lee Ann Liebenberg.
After the safety briefing and sighting laps in the Fantastic Racing Vito, the guys and girls headed out onto the track to see who the fastest celebrity in Johannesburg was.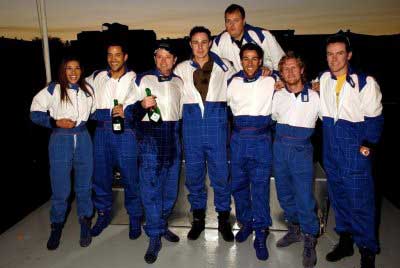 Emmanuel Castis had the moves when he won Dancing with the Stars but found that driving a race car requires a different type of skill and precision. He spun his car in turn eleven AND turn three while Brendan Jack and Darren Simpson were other drivers who had a couple of "Monaco" moments. They all recovered quickly and soon came to grips with 300 horsepower and Kyalami's tricky off-camber turns.
Lee-Ann Liebenberg had a great time driving the Reynards but two sessions were more than enough for her. She spent the final session of the day doing hot laps with a pro-driver in one of the Fantastic Racing two seater Birkins.
Nico Panagio was a bit apprehensive when the day started, but quickly realised how safe the cars are to drive at speed and by the time the chequered flag had come out, was the Most Improved driver of the day.
Jason Greer who feels "adrenalin is a need" took the Most Consistent driver award and the Best Driver honours for the day went to Bevan Cullinan who was consistently the smoothest and fastest driver. Bevan noted: "Fantastic Racing could not have improved on the whole experience. It's exclusive and not something you come across at every gig."