Emmanuel Castis will perform at the M.A.D. 4 Haiti Benefit Concert, at the Carnival City Big Top Arena on 21 March 2010, from 12 noon – 4pm.
Tickets are on sale at Computicket from R100.
For more information visit www.mad4haiti.com
Join the Facebook page on: M.A.D. 4 Haiti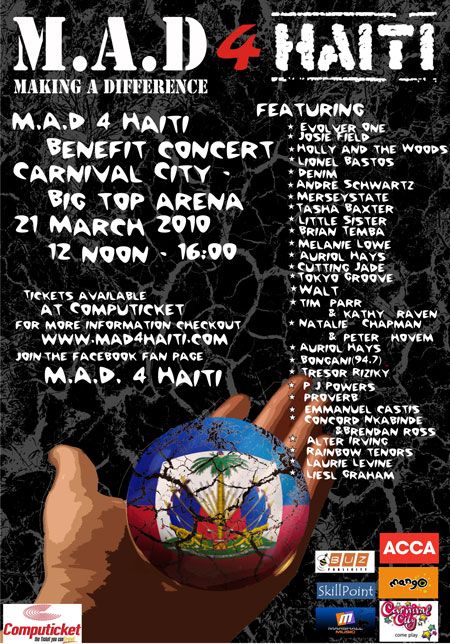 Line-up includes:
Emmanuel Castis, Little Sister, Tasha Baxter, Auriol Hays, Laurie Levine, Tokyo Groove, Walt, Merseystate, Josie Field, Evolver One, Liesl Graham, Holly and the Woods, Denim, Cutting Jade, Brian Temba, PJ Powers, Melanie Lowe, Proverb, Natalie Chapman and Peter Hoven, the Rainbow Tenors, Bongani (94.7), Alter Irving, André Schwartz, Concord Nkabinde, Tim Parr and Kathy Raven, Lionel Bastos, Kwela Tebza, Parlotones and Tresor Riziky.
Keeping this dynamite line-up on its toes will be MCs Bevan Cullinan (aka Gary the Tooth Fairy), Joey Rasdien, Samm Marshall, Emmanuel Castis, Cleone Cassidy, Hlubi Mboya and Doug Anderson.