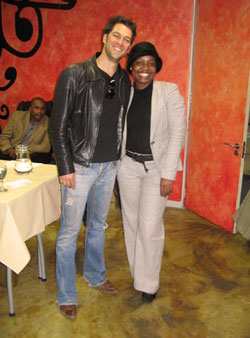 Back in June I told you I was going to talk at an entrepreneurs forum. On the way there I was writing notes furiously. For the avoidance of doubt I was not writing and driving, I was being chauffeured (that sounds so classy – as opposed to elitist har har). The pressure was on. I act and MC but this kind of public speaking is, well, different. I arrived clammy and nervous to take the "stage". I got off to a bit of a jumbled and nervous start. Chronologically I was all over the place. I was with group of people who were in business – all entrepreneurs. What do I know about business I asked and still ask myself?
Turns out I know a bit about acting and there are many parallels between the performance and entrepreneurial worlds. For starters every day is an audition and hearing the word NO is simply déjà vu. The important thing is to believe that you will hear a YES. Julie said that the thing that resonated most with her is that we are our biggest limitation.
The experience was EXHILIRATING. I learnt a lot from the questions that were asked and the discussion was lively. I also learnt that I had something to share.
On the subject of business go buy BLACK JERUSALEM by Happy Ntsingila (it's a book about the advertising world).