A Nelson Mandela Bay rising star has put the city on the national map after being named the winner of this year's KTV Young Stars talent competition.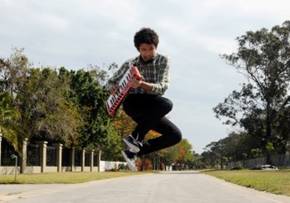 Gino Swanepoel, 14, popularly known as Gino Lee, was named the overall winner of the competition in Johannesburg at the weekend, where he scooped a R20,000 cash prize. He was competing against nine other finalists, including Port Elizabeth-based hip-hop group Baby, which came second. The winner was announced live at the M-Net studio on Saturday.
Yesterday, Gino Lee, a Grade 9 pupil at Theodor Herzl High School, was still "amazed" at winning the competition. "It's like an out-of-body experience. It's unbelievable because the competition was very tight and there were a lot of other talented kids there." Gino Lee performed two songs. First was a cover version of The Parlotones song, I'll Be There. The second song he performed – Chasing After Dreams – was written by his brother, Marco.
Gino Lee, who started singing two years ago in a band called River Road, hopes to be a successful professional musician one day. Michelle Brown, of Brown's PR, said the talent-search competition was part of KTV's market day, the country's premiere youth-orientated entrepreneurial contest. The market day was held in Port Elizabeth, Johannesburg, Durban, Bloemfontein and Cape Town.
Judges in the competition included hip-hop artist ProVerb, former Idols finalist Thembi Nkosi and Emmanuel Castis.
According to Brown, Gino Lee's performance was so impressive that the producer of the Young Stars show has decided to fly him to Johannesburg to perform in one of the Idols shows.
(From The Herald Newspaper)